Are you planning a trip down under this year? Are you confused about which place to visit or are you unsure whether you should explore less number of places with more time or the other way around? Don't worry because we are here to solve all your problems in the blink of an eye. Don't you believe us? Wait and watch!
Have you considered the island state of Tasmania, located near the very popular Bass Strait? Separated from mainland Australia by the Bass Strait, Tasmania is exactly 240 km away from the mainland, in the south. So why spend all your time touring the mainland when you can visit this hidden gem for a few days?
Keep reading to find out more about all the things to do in Tasmania in 2022!
10 Best Things To Do In Tasmania In 2022:
So without wasting any further time, let's find out what are the best things to do in Tasmania in 2022 – simply scroll down for more details on the same.
Read More: 10 Best Things To Do In New South Wales
1. Freycinet National Park
One of the most well-known, Freycinet National Park is a must-visit if you are visiting Tasmania. Located on the eastern coast of Tasmania, the Freycinet National Park is popular for the iconic vista of Wineglass Bay.
The Wineglass Bay is an iconic curved stretch comprising of sand that is filled with blue water – the blue almost makes the view look otherworldly. Go on a cruise of the bay or try out kayaking – you can even explore the hiking trails inside the park.
We highly recommend the beautiful walk to Mount Amos.
2. Hobart City
Yes, Tasmania is mostly known for its natural beauty, but that does not mean you are not going to check out the beautiful capital city of Hobart. There's so much to explore in Hobart – from exploring the famous Salamanca Market to strolling through the beautiful Royal Tasmanian Botanical Garden.
Located against the Derwent River, Hobart City has so many things to offer, especially if you are looking for things to do in Tasmania. Check out the unique, engaging, and sometimes provocative exhibits at MONA or the Museum of Old and New Art.
Don't forget to visit Mount Wellington while exploring the natural attractions of Hobart city.
3. Cradle Mountain National Park
Known for being the UNESCO World Heritage Tasmania Wilderness site, the Cradle Mountain National Park might not be one of the highest mountains in Tasmania, it definitely is the most popular one.
Climbing the Cradle mountain is like a 'rite of passage' for most backpackers traveling around Tasmania. The trek is considered to be a relatively easy one for most people who are fit. But that does not mean you have to underestimate the rocky ascent towards the end of the climb!
It doesn't matter if you can't make it to the summit – you cannot miss out on the stunning scenery in and around the Cradle Park area.
Click Here To Read: 10 Best Things To Do In Queensland
4. Lake St. Clair
Another location under the same UNESCO World Heritage Park, Lake St. Clair, is one location that deserves to be on the list of things to do in Tasmania. A beautiful, tranquil retreat, Lake St. Clair, was created from glaciers 2 million years ago.
From boating and kayaking to isolating yourself in the company of Mother Nature, Lake St. Clair is a must-visit for all nature lovers. Another famous thing that you must check out in the area is the well-known Overland Track which happens to be a popular hiking trail across the world.
If you are planning to explore the Overland Track, don't forget to plan the hike in advance since it will take you about six days on average to finish the hike.
5. Bay of Fires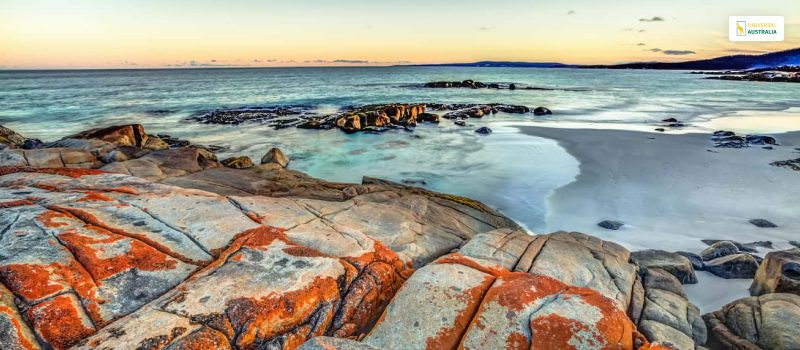 Located on the eastern coast of Tasmania, the Bay Of Fires shoreline is dotted with orange-red rocks, covered by moss of a unique color. Every evening this shoreline lights up during the sunset, just north of the Binalong Bay.
The rocks offer a truly spectacular view, and it is normal for people to assume that the bay obtained its name from the rocks. But that part isn't accurate. In fact, the name was given by the captain of a ship after he saw the fires on the beach lit by Aboriginal people.
6. Bicheno
What's the point of visiting any town that's not quintessentially Tasmanian when you think about it? Bicheno is here to give you the local Tasmanian experience that you simply can't miss!
Located on the eastern coast of Tasmania, the Bicheno village is home only to a thousand people at the most. One of the top things to do in Tasmania is scuba diving, and you must check out the Governor's Island Marine Reserve, where you will be able to witness some of the best Australian diving!
Don't forget to check out Diamond Island, a type of rocky outcropping located near the shore – the only way you can access the island is through a thin sandbar.
7. Strahan
Located remotely on the western coast of Tasmania, Strahan is one place you cannot visit easily. But if you are up for a little adventurous journey, then you will be welcomed by a charming port town, isolated and beautiful at the same time.
There are several sand dunes and beaches nearby that you must explore. But whatever, you don't miss out on the riverboat cruise across the stunning Gordon River – a lush green rainforest and untouched natural beauty! What more do you need?
8. Launceston
Launceston might not be the capital city, but that doesn't stop the place from becoming popular as a culinary paradise. A must-visit for all foodies, Launceston also happens to be a cultural hub with several boutique shops, art studios, and museums.
While exploring culture, indulge in some wine-tasting at the wine region in the Tamar Valley. If you get too tipsy, then stay for the night at the Armalong Winery Chalets, located in Rosevears. Launceston is best for things to do in Tasmania in winter!
9. Mount Field National Park
Do you want to experience the magic of the Tasmanian Wilderness? Then you must check out Mount Field National Park, located shortly from the capital city of Hobart. The best tourist attraction inside this national park? Russel Falls!
While checking out Russel Falls in the daylight can be a great experience, why don't you come back to the same place at night? The falls are lit by several thousand glowworms, lighting up the nearby area beautifully!
You May Like To Read This: Norfolk Island – Hotels, Beach, Resort, Food
10. Bruny Island
Last but not least, a visit to Tasmania can never be complete without visiting Bruny Island – all you have to do is hop on a cute car ferry and find out all the epic things to do! From beautiful views of the cliff-side to checking out several dining alternatives, Bruny Island has so much to offer.
Don't forget to check out the Truganini Lookout, a famous viewpoint for watching this stunning isthmus made from sand. Home to several wild animals, you can easily witness whales, dolphins, seals, penguins, and more.
Frequently Asked Questions (FAQs):
1. What Is The Number One Tourist Attraction In Tasmania?
The top tourist attractions in Tasmania are as follows,
1. Cradle Mountain,
2. Cataract Gorge,
3. Royal Tasmanian Botanical Gardens,
4. Blow Hole and Tasman Arch, and
5. The Tasmanian Museum and Art Gallery.
2. What Is The Prettiest Place In Tasmania?
The prettiest places in Tasmania are as follows,
1. Cradle Mountain,
2. Hobart,
3. Port Arthur Historic Site,
4. Port Arthur Historic Site, and
5. Cataract Gorge.
3. What Is The Best Month To Go To Tasmania?
The best time to visit Tasmania is Summer. Since Australia is in the Southern Hemisphere, summer lasts somewhere between December and February, when the island state is both dry and warm., with temperatures somewhere between 20 to 24 degrees celsius.
Wrapping Up!
Instead of looking for things to do in Queenstown, Tasmania, take a few months to check out this beautiful island state. There are so many things to do in Tasmania that two days won't be enough. Our suggestion? Take an entire week in your hand and check out the natural beauty of Tasmania!
Don't forget to let us know your thoughts on the same in the comments below. In the meantime, happy traveling, happy exploring!
Read Also:
Barsha Bhattacharya
Barsha Bhattacharya is a senior content writing executive. As a marketing enthusiast and professional for the past 4 years, writing is new to Barsha. And she is loving every bit of it. Her niches are marketing, lifestyle, wellness, travel and entertainment. Apart from writing, Barsha loves to travel, binge-watch, research conspiracy theories, Instagram and overthink.